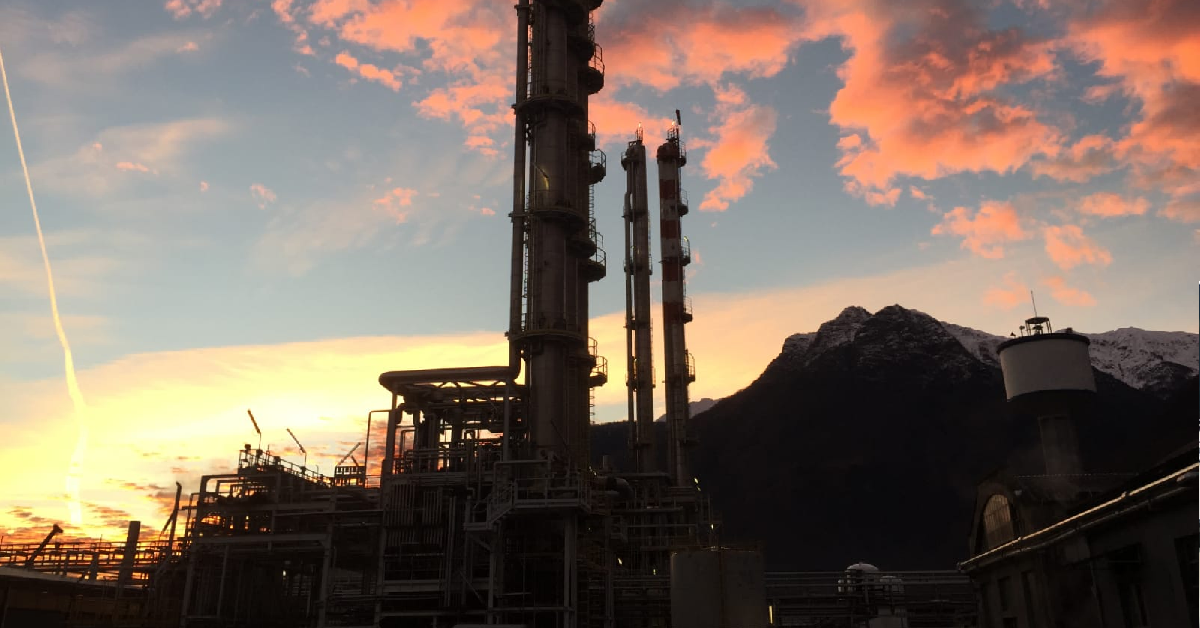 Last June 2021 the so-called (now formerly) "Extractive" was put back into operation, which is the extractive distillation plant built in 1999 and now converted for traditional distillation.
The conversion took place as part of the innovative industrial plan developed by the Esseco Group and which envisaged the investment of 45 million euros and the acquisition of Hydrochem Italia in 2019. The goal of this operation, who was largely achieved, was to improve the energy efficiency of Hydrochem Italia plants.
History
The extractive distillation plant of the industrial site of Pieve Vergonte was built in 1999 for the production of dichlorotoluens. Always known as the "Extractive", the plant consists of a series of 3 distillation columns, each 54 meters high, capable of producing about 2500 tons / year of products. Having remained in operation for about ten years, the Mining was definitively stopped in 2010, due to low productivity, which made it anti-economic.
In 2019, when, with the acquisition of Hydrochem Italia, the Esseco Group implemented a program to relaunch the production site in Pieve, the initial plan did not include the restart of the former "Extractive":however, after a careful technical- economic analysis, the Esseco Group, through Hydrochem Italia, has decided to invest further to put the plant back into operation, increasing its efficiency and productivity, with the strategic objective of enhancing and improving the quality of the products made in the production department of chloroaromatics.
At the end of 2020, a program of revamping and extraordinary maintenance of the existing plant was therefore launched, in order to convert its operation from extractive distillation to traditional distillation and increasing the production capacity of the current monochlorotoluene plant.
In June 2021 the former "Extractive" was put back into operation and, thanks to the new plant, Hydrochem Italia was able to increase the production capacity of chloroaromatic products by 20%, reaching approximately 25,000 tons/year and managing to support the markets in the agrochemical and pharmaceutical sector, in continuous growth and development.
This new plant integration has also allowed Hydrochem Italia to improve its energy efficiency, guaranteeing savings in the use of steam and consequently of methane gas.